With the $2 Trillion stimulus now in the works, it's important to know and understand who will receive financial help. Here's what we know on who's eligible, how much to expect, and how you will receive payments. Let's go!
For now, let's discuss individuals and households. The amount you and your household may receive is completely based on your Adjusted Gross Income (AGI).
You can find it online 8B of your 2019 1040 Federal tax form. If you haven't filed your taxes yet, the IRS will use your 2018 1040 tax filing to determine your amount. For 2018 filings, your AGI can be found on Line 7.
The total amount you will receive will be based on these AGI figures.
WHO'S ELIGIBLE:
If you're a single US resident and have an AGI less than $99K
Filing as the Head of a Household earning under $146K
Filing jointly (with no children) and earning under $198K
WHAT TO EXPECT:
Single US residents must have a social security # and an AGI under $75K to receive the full $1,200. That sum decreases as your AGI goes up. If your AGI reached $99K you will not qualify.
If you file as a Head of Household you will get the full $1,200 payment if your AGI is $112,500 or less. That amount decreases until you reach $146,000.
Married couples filing jointly (without children) with an AGI below $150K will receive a $2,400 payment, decreasing to zero at $198K
For each child (16 and under), families will receive a payment of $500.
NOTE:
The IRS has stated that anyone who hasn't filed their 2018 federal taxes, may not receive payment and recommend to file now.
If you are retired and didn't file a tax return for 2018 or 2019 you may still qualify. The IRS will use your Social Security Benefits Statement to determine your eligibility. For younger people, age 17-23 you may not receive a payment at all.
College students 19-23 don't qualify. Nor do young people 17-19 who may or may not be students.
WHEN TO EXPECT PAYMENT:
Treasury Secretary, Steven Mnuchin, stated that stimulus checks will take 3 weeks to reach citizens. So, payments should arrive sometime within mid-late April. Now, if you have a direct deposit set up, expect payments made that way. Otherwise, checks will be sent through the mail.
The IRS will also send out notices to individuals and families on when and where your check was sent. If you receive the notice but not a check or direct deposit, contact the IRS using the information contained within the notice.
SMALL BUSINESS:
Nearly $350 billion of the stimulus package was set aside to help aid struggling businesses. To clear up who is eligible for funds, Treasury Secretary, Steven Mnuchin, in a recent press conference said, "small business retention loans this will cover roughly 50% of the private payroll in small businesses…we will immediately make loans that will supply 8 weeks of salaries as long as they keep workers employed and overhead. And those loans will be forgiven at the end of the period as long as they keep workers employed."
SO, WHERE'S THE $2 TRILLION GOING?
$349 Billion to Small Business
$250 Billion to Unemployment Insurance
$301 Billion directly to individuals and households
$500 Billion for Corporate Aid
$221 Billion in Tax Benefits
340 Billion to Supplemental Spending in the Healthcare Sector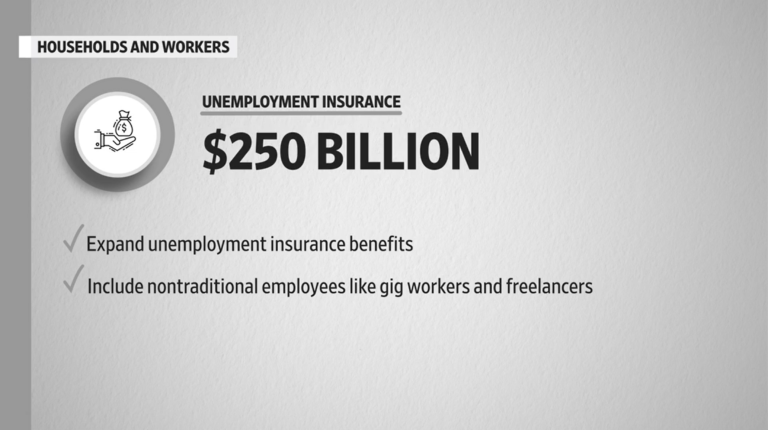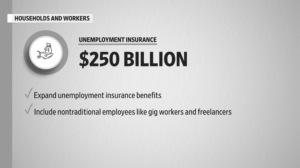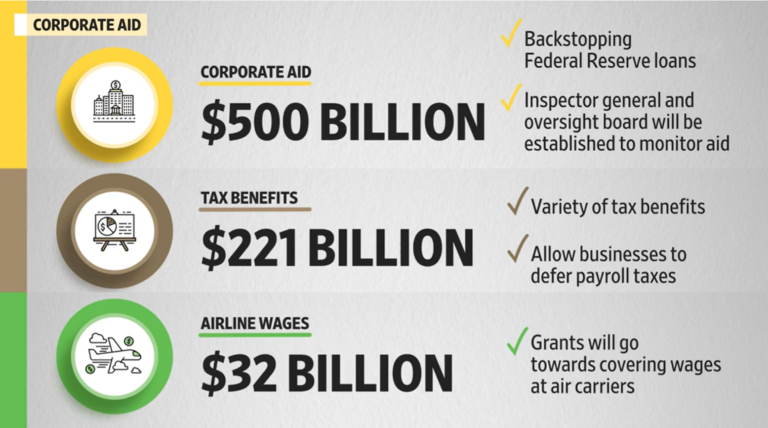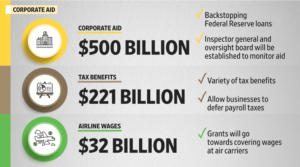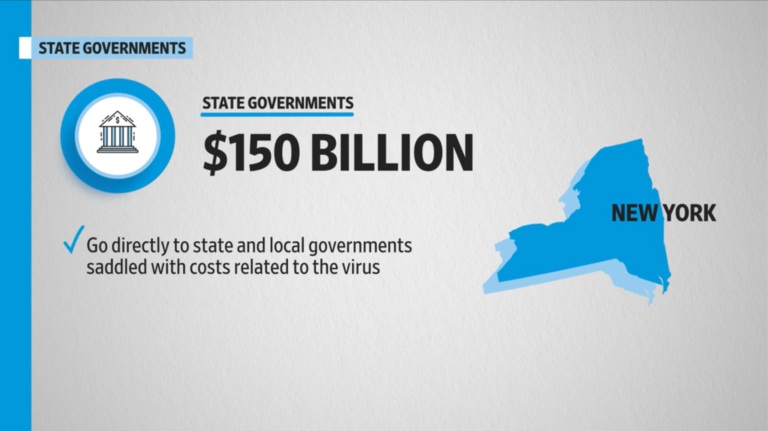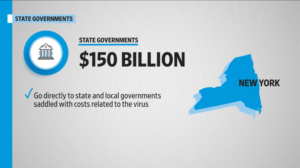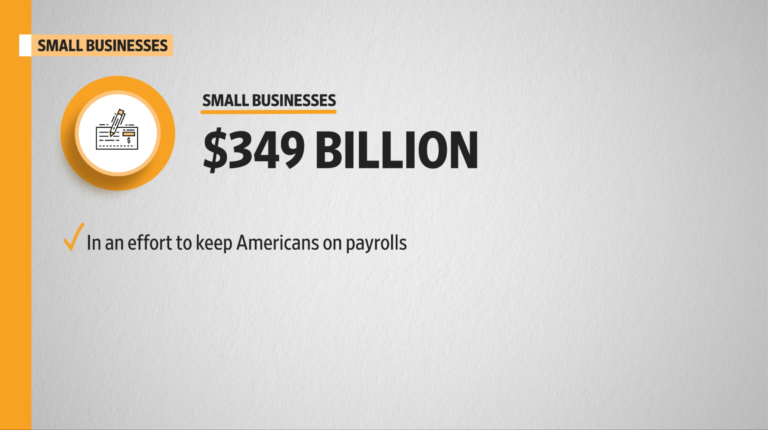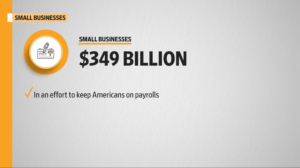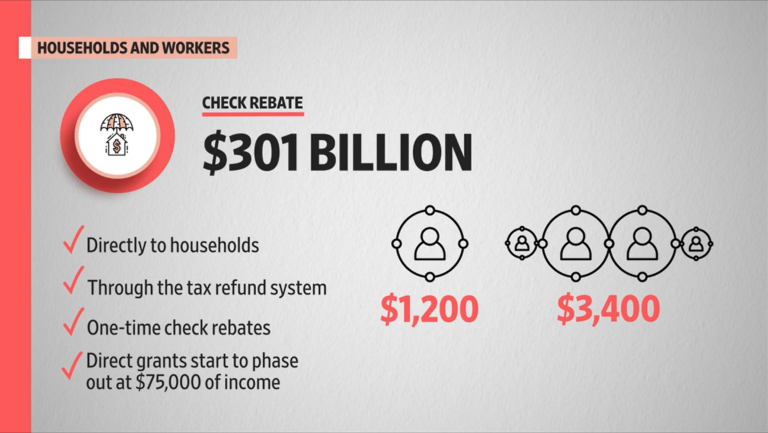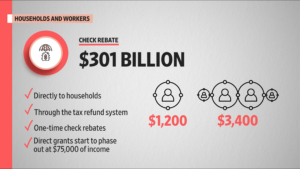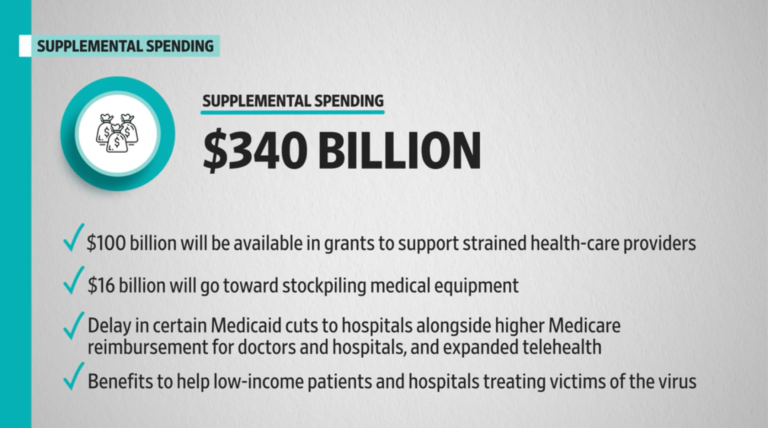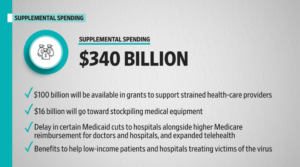 FINAL THOUGHT:
In one week, a record 3.28 million workers applied for unemployment benefits beating the previous record by 5 times. With that in mind, it's critical that this stimulus package trickles down to the economy. And fast! Experts predict that if we hit the apex of the virus soon and it tapers down by the early summer, the $2Trillion stimulus should be enough to provide ample time for small business owners (and the economy) to come back to life.