Refer Clients. Earn Revenue. Repeat
A Program that works for you
Help your clients by introducing them to Fingercheck's trusted and powerful
Payroll & HR platform, grow your firm's influence and earn rewards for life*.

Joining is easy; simply apply to become a Fingercheck partner on the form below or directly from the Fingercheck Accountant Portal.

Once your enrollment is approved, start by referring your clients and moving up the tiers; the more you refer, the more you will earn.

Start earning commission immediately when a client runs their first payroll; your earnings will continue for that accounts lifetime!
Move up quickly, to increase your rewards.
Fingercheck provides is a user-friendly bookkeeping platform that enables your accountant to access client data at the office or our convenient mobile app.​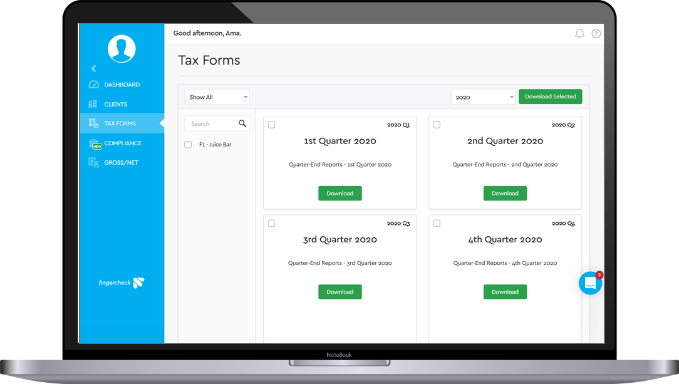 Work Faster & More Efficiently
Our Accounting Portal was designed for accountants!
The secure portal provides easy access to your client's essential records such as payroll, general ledger reports, quarterly and year-end filing documents, and more in one place!
Join Fingercheck's Partner Program today to get access to your very own dedicated portal and start managing your referrals and commission.
Provide your accountant with a convenient cloud-based portal from where to quickly and securely access the data you want to share, like payroll records, general ledger, and tax-related forms.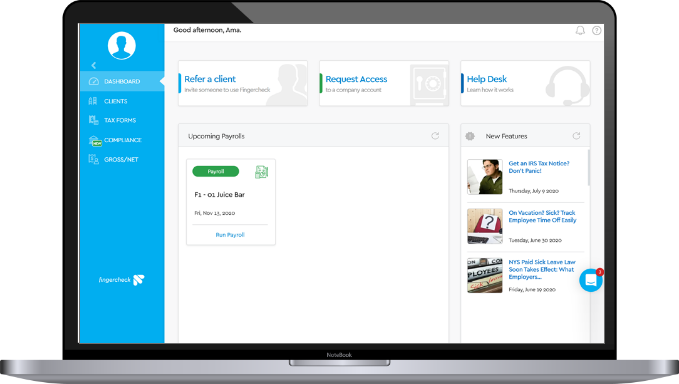 Accountant Access Makes Life Easier!
Allow your accountant to work much more efficiently. Once you provide secure access, your accountant will be able to easily retrieve essential records such as general ledger reports, quarterly and year-end filing documents, and more, all from one single platform.
Best of all: The Accountant Portal is included as part of your Fingercheck subscription and is available for you 100% FREE and at no extra charge!

Fill out and submit the form; we will contact your accountant for you;

Once confirmed, your accountant will receive a username and password to access their very own Accountant Portal where they will have access to the data you chose to share.
Partner Solutions Ready for you
Fingercheck provides the right solution for the right need. If you're either looking to become a Partner, gain access to the Accountant Portal or for those looking to refer their accountant, we'll make it simple and easy for you.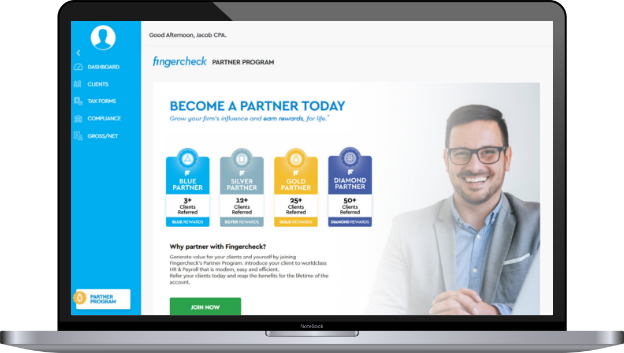 *Terms and conditions apply.