Running late? No problem with Next-Day Pay
Fingercheck's Next-Day Pay option provides small business owners with more flexibility around payroll processing deadlines.
Don't let deadlines get in your way
Our seamless and modern payroll platform empowers you to stay ahead of your financial obligations even if you miss deadlines. With Next-Day Pay, you can streamline your payroll process, boost employee morale and focus on what truly matters – growing your business.
With Next-Day Pay, meeting payroll deadlines becomes a breeze.
We ensure you can process payroll quickly and accurately, keeping your business compliant and your employees happy.
Boost employee morale & retention
You can move money into your employees' bank accounts with faster payroll options. Whether you want to issue a last-minute bonus or cover employee expenses faster, we've got you covered.
Improve your cash flow by eliminating the need to hold funds for extended periods. Manage your expenses more efficiently, seize growth opportunities, and ensure your business's financial stability.
Pricing starts at just $45/month
Automate your payroll & HR today
Efficient Tools for More Effective Teams
The simplicity! It is effortless to use; from adding time to holidays, PTO, or regular time, it's easy. I have used other programs, but they were never simple. This system is excellent!
"Very robust and flexible platform, with lots of different options."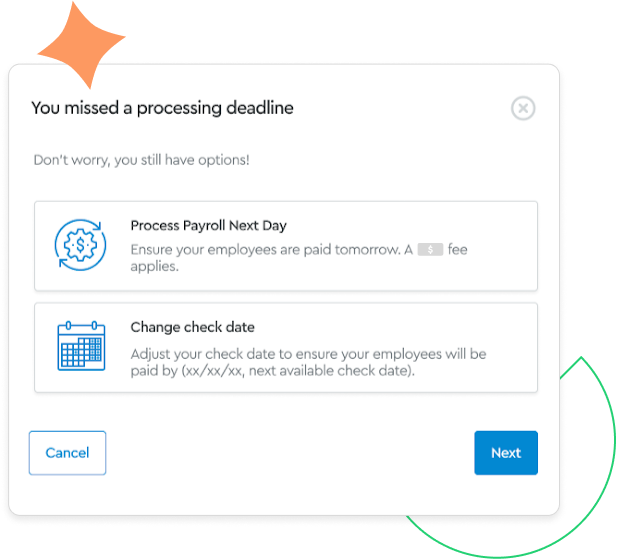 modern payroll for when you need it
Experience Next-Day Pay with ease at Fingercheck
Unlock the convenience of Next-Day Pay effortlessly as a valued Fingercheck customer. Whether you're a 360 Plus subscriber or not, you can access this fantastic benefit with just a small service fee.
Discover more details on our pricing page and select the perfect plan to meet your needs.
Discover the power of smarter payroll