Mobile Time Tracking Has Never Been Easier!
Track time from anywhere on our time clock app, by text message (SMS), online. or safely at the office on a  touchless time clock.  
Track Time & Attendance On Our Mobile App
We've combined our time tracking software with the latest touchless time clock technology – offering small businesses unparalleled time tracking mobility and office safety. Fingercheck allows employees to clock in and out remotely from anywhere – no matter the job type. We also offer a variety of time punching capabilities that include mobile apps, text messages (SMS), and online. Our GPS tagging feature helps you monitor the exact employee location at the time of each punch. Our photo capture function adds another level of security and verification. Job selection allows you to have proper job costing for each job; geofencing can then restrict punches to specific locations.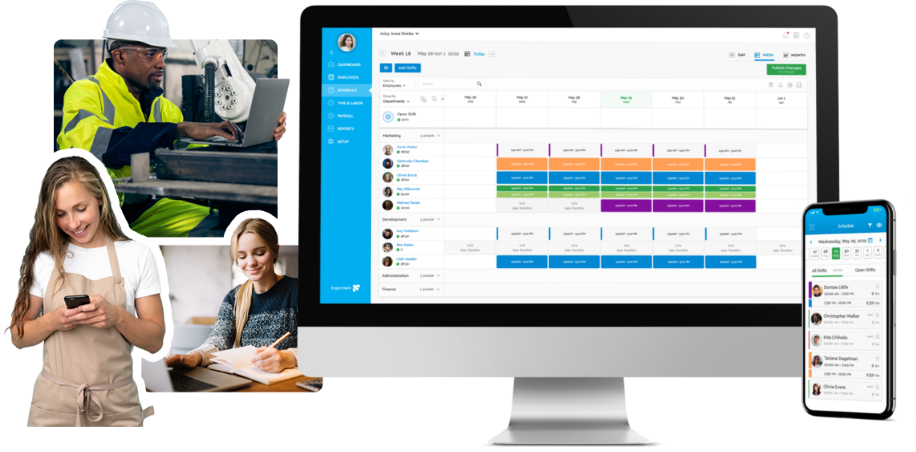 The time tracking app and live status dashboard enables admins and supervisors to control automated alerts, emails and push notifications about time cards and more.

Detailed job costing capabilities means fast and hassle-free reporting. Capture cost of every job including workers' comp and employer taxes on our time tracking app.

Create custom rules to automatically calculate time tracking, including automatic break rules, overtime policies, premium policies, and more. It's all on the app at your fingertips,
Time Tracking App Features
The Fingercheck App Brings Time Tracking to Your Fingertips