Payroll Made Simple
Payroll processing can be stressful, time-consuming, and prone to errors. With Fingercheck directly connecting HR, time and payroll, all your data is automatically compiled. We eliminate the risk of error with automation that is fully compliant, making federal, state and municipal tax codes simple to deal with. Running payroll now takes only a few minutes! You can even preview payroll for a full breakdown (per employee) and edit details before processing.



Engage Your Team

Empower employees to control and monitor their own payroll information by logging into their account. No need to contact the manager, and no need for finance disputes. Everything is transparent so compensation is quick and easy.




Set-and-Forget AutoPay

Never miss a payday, no matter where the day takes you. Set-and-forget AutoPay conveniently runs your payroll automatically. Mobile access from anywhere means you always have the power of payroll oversight and management in your pocket.




Automation For Error-Free Compliance

Fingercheck automates the payroll process using internal timesheet data to calculate pay and eliminate the risk of error. Automation also makes compliance with federal, state and municipal tax codes a non-issue.




Always Safe and Secure

Data is stored in the cloud with user-definable roles and multilevel security to ensure private financial information remains confidential. Regular redundant backups leave no risk of data loss, and information is retrievable in moments by administrators.
Our Streamlined, Customized Payroll Services are now
Available in
48 States

– including Washington, DC!
Fingercheck Debit PayCards: A New Way to Pay
Deliver paychecks conveniently, with a reloadable debit pay card.
More Pay Options

Give your employees a pay card, and they can use it as long as the card remains active.

AutoPay Loads

Paychecks are automatically reloaded to the payment card each time you run payroll.

Cardholders Swipe

Employees can use their pay card anywhere debit payments are accepted.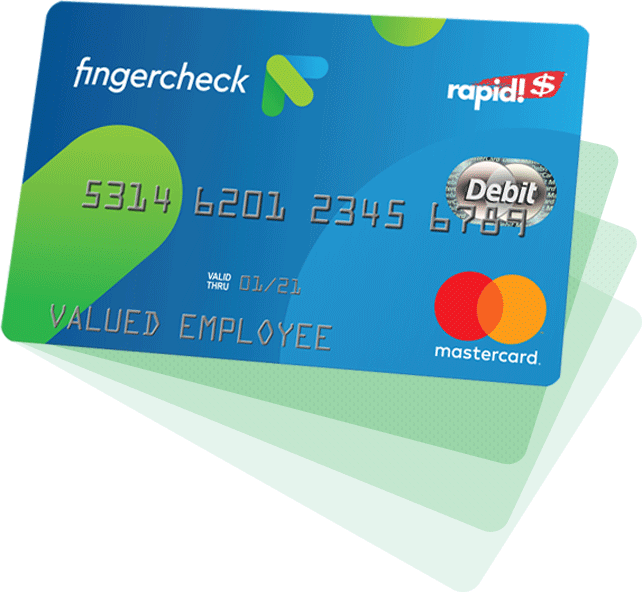 Get a Debit PayCard Today!
To offer Fingercheck Debit PayCards to your team, simply fill out the form below and a Fingercheck team member will contact you.
Features
Automatic deductions
Flexible pay schedules
Net-to-Gross payments
Unlimited payroll runs
Detailed payroll preview and reports
Auto-run payroll
Quarterly filing
Digital pay stubs
Custom general ledger exports
Multiple direct deposit or pay cards
Automatic reimbursements
Pay vendors and contractors
Year-end reporting and filing
W-2 and 1099 forms generated
Multiple pay rates
Run payroll on mobile
You Can Love Payroll
Yes, it's possible! Turn payroll into a modern, automated process and learn to love payroll.