At Fingercheck, we are always hard at work innovating our UI to make sure our clients have the easiest, most intuitive experience possible with our products. Case in point: the redesign of our tablet app, which is available now.
Original App
The original app debuted in July 2015 and allowed employers to essentially transform their Apple and Android tablet devices into employee time clocks. This was—and remains—an incredibly cost-effective option for business owners with smaller budgets or the need for many time clocks in multiple locations.
The app is equipped with GPS tracking, photo capture, customizable multi-level job selection, and offline punch capabilities. Employees clock in by entering their employee clock number using the touch keypad and tapping "In," "Out," or "Transfer."
Now, Fingercheck collaborated with a design team to reimagine the tablet app with a more user-friendly and fresh look. A professional, polished UI that's perfect for display in the office or on the go.
"We wanted the perspective of a creative team, and we're really happy with the result. It's a perfect union between style and function," says Director of Marketing Sal Lemmer.
Usability
The new UI keeps elements of the original format while updating the app with a fresh new look and design choices that make sense for employees and administrators.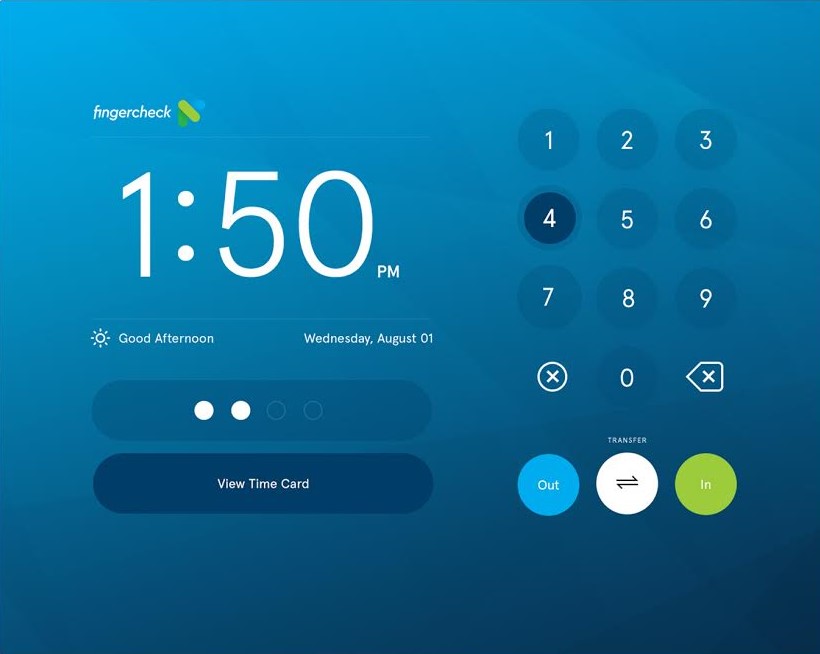 A side menu organizes those hard-to-find functions for administrators, such as settings, app information, internet connectivity, etc., making using the app even simpler.
The side menu contains five icons that work in unison to help you easily manage the tablet app at all times.
The top icon is represented by a cloud and depicts your internet connectivity. If the Time Clock app isn't currently connected to the internet, you'll know by the exclamation point.
The second icon, Settings, allows you to toggle features on and off. Here, you can also select the default cost center levels you want to appear when employees punch.
The third icon allows you to sync offline punches when the app is connected to the internet (a numeric symbol will appear over the icon representing the number of punches pending to be uploaded).
The fourth icon is the "About" section of the app.
The fifth icon allows you to log out.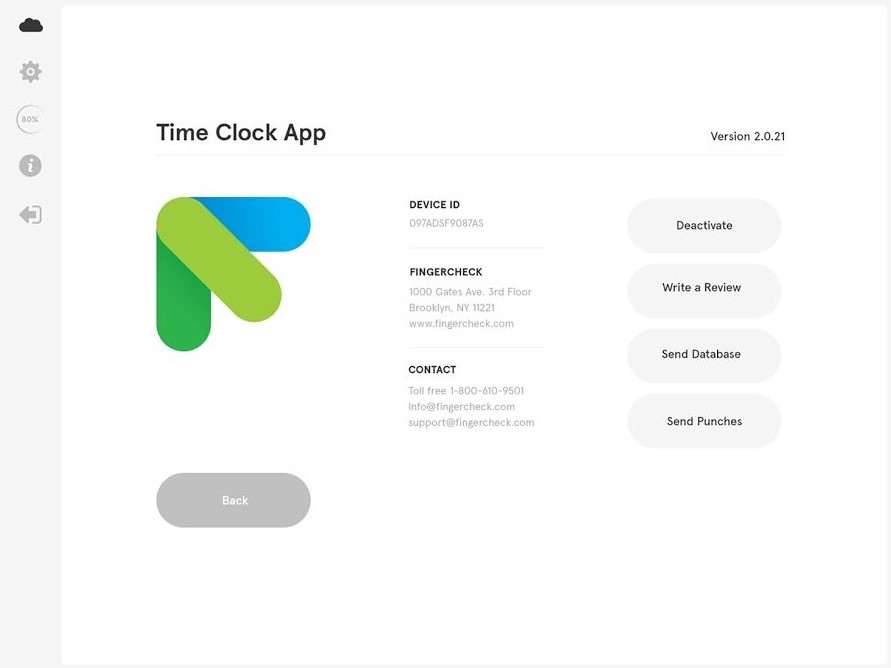 If you're a Time Clock app user, let us know how you're enjoying the redesign, and feel free to leave us a review. We value client feedback and will work hard to make sure our product is the best it can be.
If you haven't tried the app yet and think it might just be what you need for your employee time-tracking needs—there's no better time to check it out! Click here for the App Store version and here for the Android. And remember: you need the Fingercheck service to run the app, so be sure to visit our pricing page if you haven't already signed up!