We know how challenging it is to find and hire employees. We also know that keeping those employees is crucial to the success of your small business. Keeping them happy is important, too. That's why we believe in offering you the ability to pay your team on demand by providing them with access to their earned wages. 
Whether it's called pay on demand, same-day pay, earned wage access (EWA), or wages on demand, this is one of the fastest-growing employee wellness programs on the market today. And, rightly so, because Pay On-Demand isn't just for the employee, it helps business owners attract and retain their people and there's no cash flow outlay from you as the employer. Fingercheck will advance the money from our balance sheet!
Let's face it, life throws unexpected expenses at everyone. Helping hourly employees address these challenges shows them that you care. Two generations of U.S. workers face payroll fears, according to the Deloitte Global 2022 Gen Z & Millennial Survey:
Nearly half of Gen Zs (46%) and millennials (47%) live paycheck to paycheck and worry they won't be able to cover their expenses.
Salary is the leading reason why Gen Zs and millennials left a role in the last two years.
Pay On-Demand by Fingercheck allows you to pay your employees now for wages they have already earned. Providing access to earned wages during the pay cycle can reduce stress and financial burdens on your employees. And that, in turn, can improve retention rates and help with your recruitment efforts.
Make any day a payday
On-demand pay offers your employees the ability to access earned wages anytime. It provides peace of mind in the event of an unexpected expense, like an unexpected veterinary bill or a costly car repair.
Fingercheck Pay On-Demand offers employees the ability to control payday. No more waiting for scheduled paychecks. Now, employees can access earned wages when they want and need it most.
Earned wage access can help with improving employee engagement, too. Pay On-Demand is a perfect alternative to high-interest loans and helps increase employee engagement and morale.
How does it work?
Pay On-Demand by Fingercheck allows you to pay your employees when they want – ahead of scheduled paydays. Earned wage access is easy.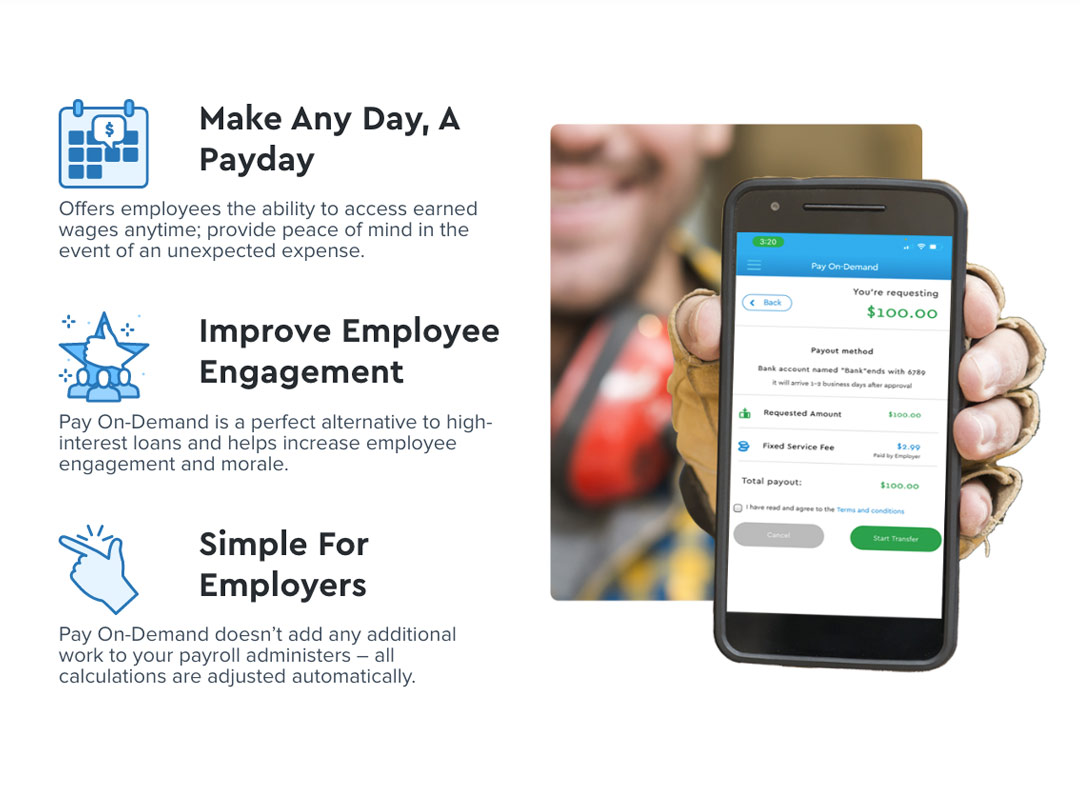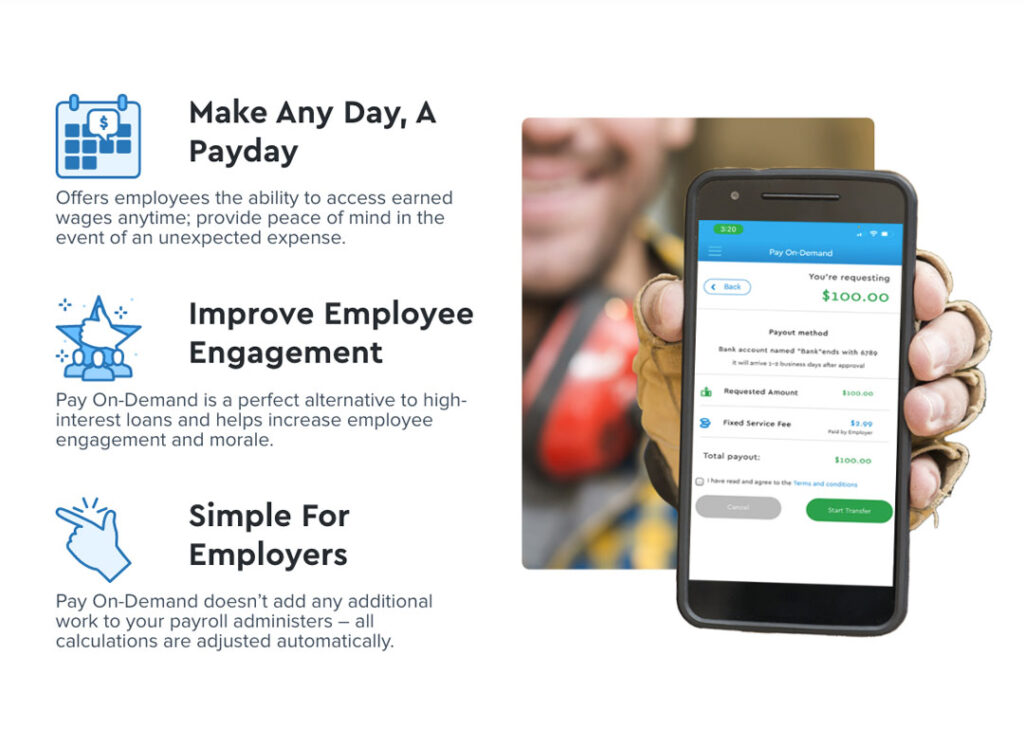 Your employee requests Pay On-Demand. Fingercheck funds the payroll transfer amount and sends it to the employee's bank account or pay card. Employees can then use it to pay bills, build savings, invest money, buy goods and services, and more.
And the best part? Pay On-Demand doesn't add any additional work to your payroll administers – all calculations are adjusted automatically.
Ready to see how Pay On-Demand can help your team?
It's easy, we promise. To learn more about Pay On-Demand, click here.