Fingercheck's Accountant Portal offers single sign-on access to clients' payroll and tax data
Experience the new and improved Accountant Portal at Fingercheck!
With a fresh look that complements its robust functionality, our Accountant Portal is designed to make your life as a bookkeeper or accountant easier than ever before.
No more searching for payroll and tax documents across multiple platforms. Our Accountant Portal provides a centralized hub where you can effortlessly access data for shared clients.
Best of all, it's entirely free for accountants and bookkeeper users, and rest assured, we're SOC 2 compliant for maximum data security.
Navigate your clients' information easily using our simple yet sophisticated interface. Say goodbye to tedious searching and hello to streamlined payroll and tax workflows. Get ready to experience the next efficiency level with Fingercheck's redesigned Accountant Portal.
What does our Accountant Portal do?
Fingercheck's Accountant Portal puts essential records and payroll information at your fingertips, making your life easier and saving you time. Instead of searching for information or playing email tag with clients, everything you need is now at your fingertips. This means you can find everything in one place:
General ledgers
Quarterly reports
W-2s and 1099s
And view and create reports for strategic insights
The portal contains tabs you can use to access the data you need. These include:
Dashboard
Clients
Tax Forms
Calculator
Partner Program
---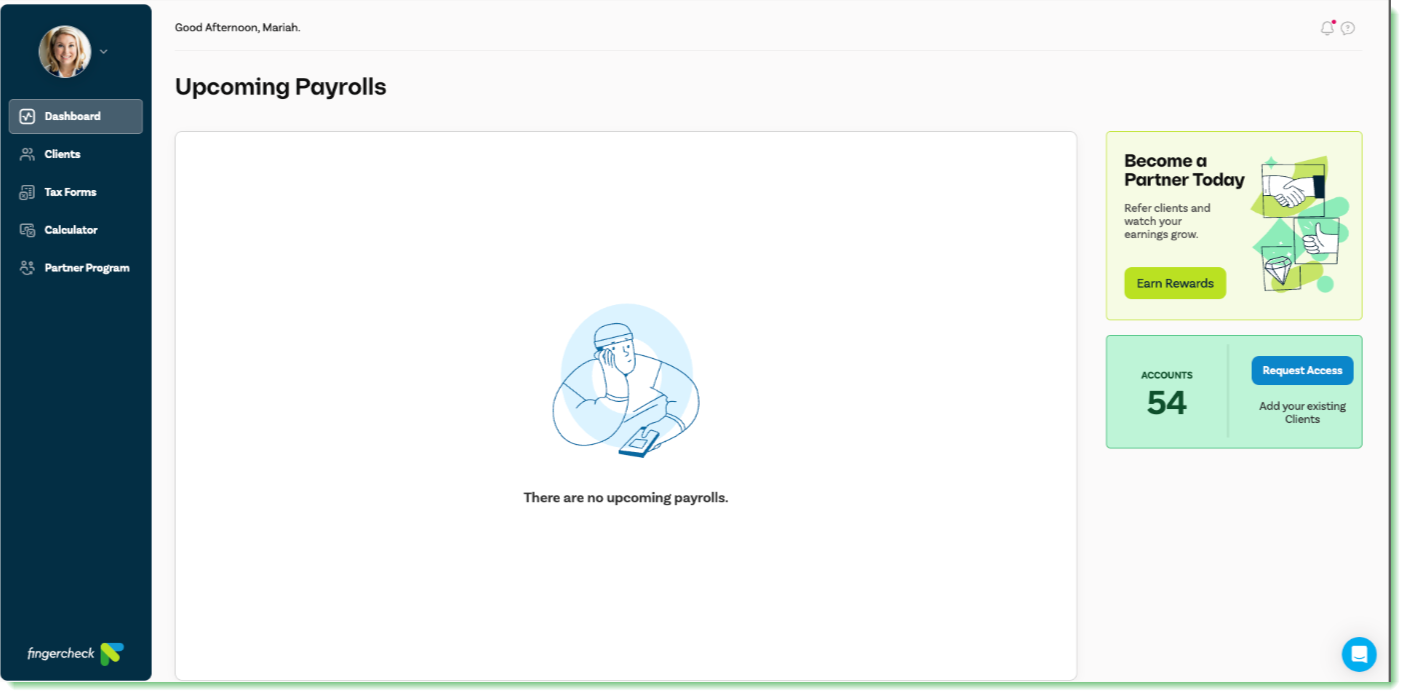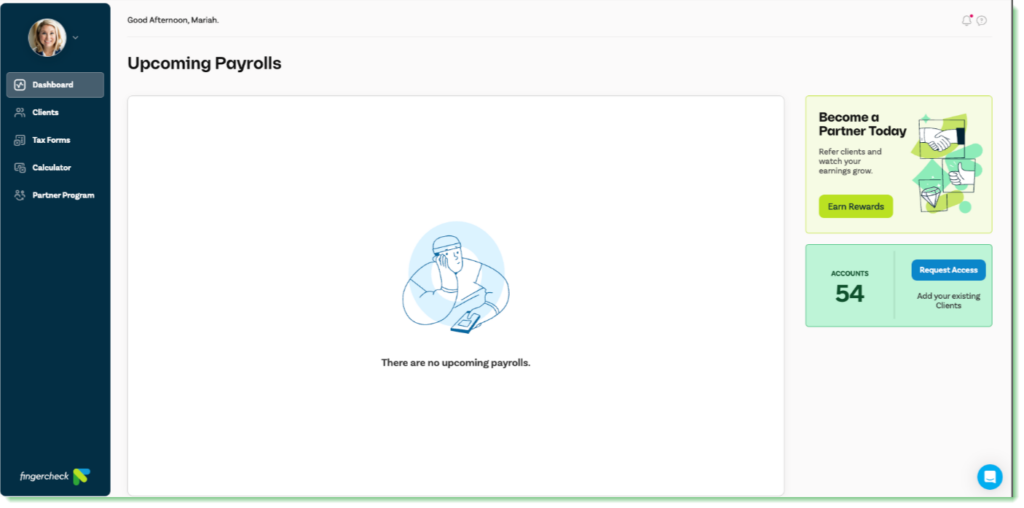 The Dashboard tab is where you'll find information about your clients' upcoming payrolls.
It also includes links to refer clients, request access for new clients and a link to Fingercheck's Knowledge Base articles for accountants.
---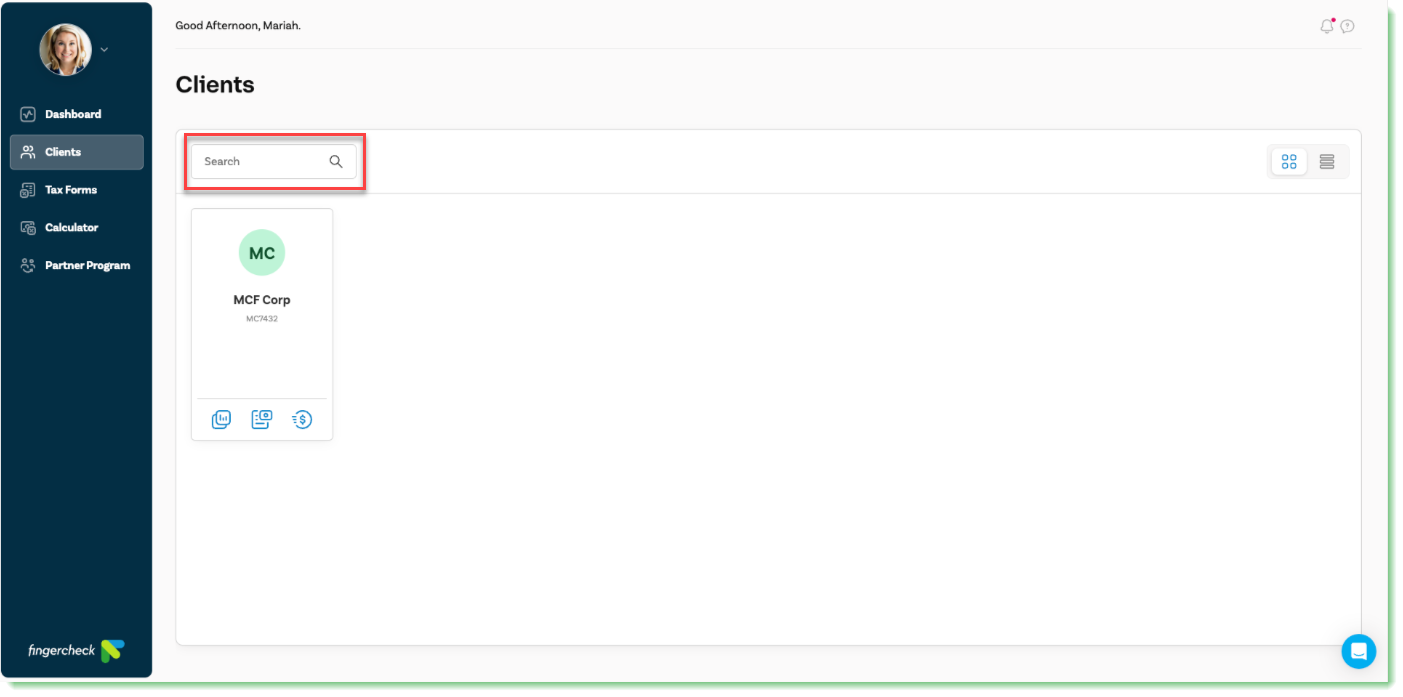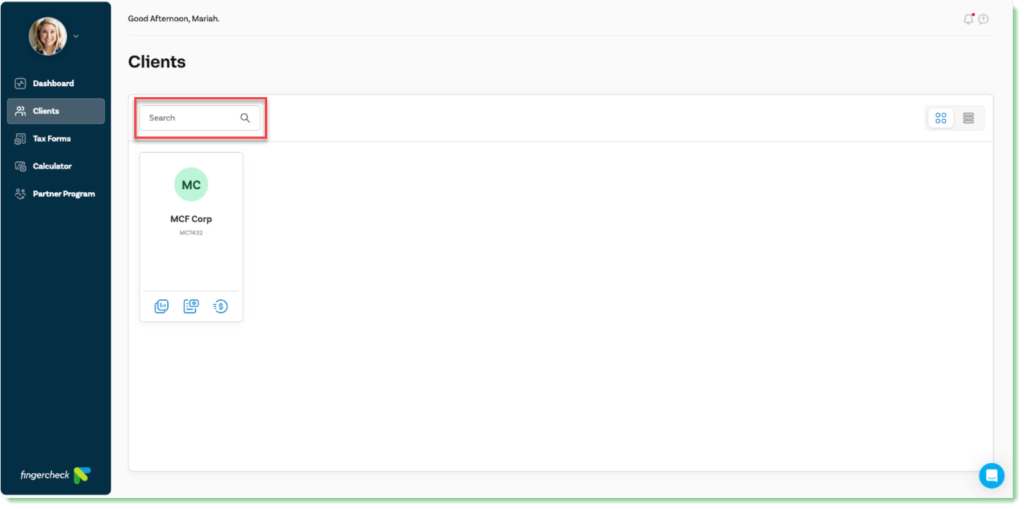 The Clients tab lists your clients who use Fingercheck. It has a search field so you can filter the list, as needed. Each of your clients has links where you can retrieve reports, general ledgers, and tax forms.
---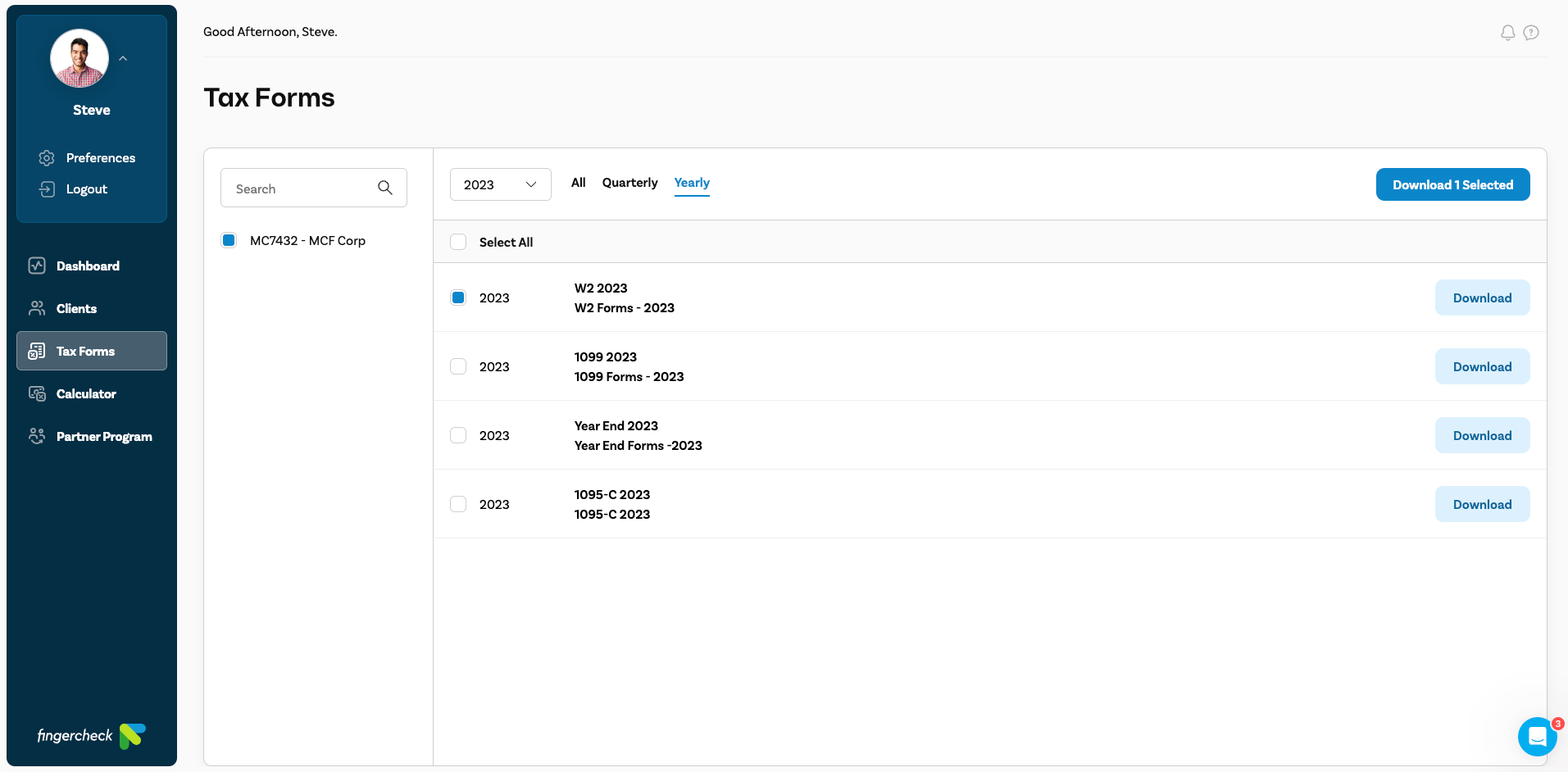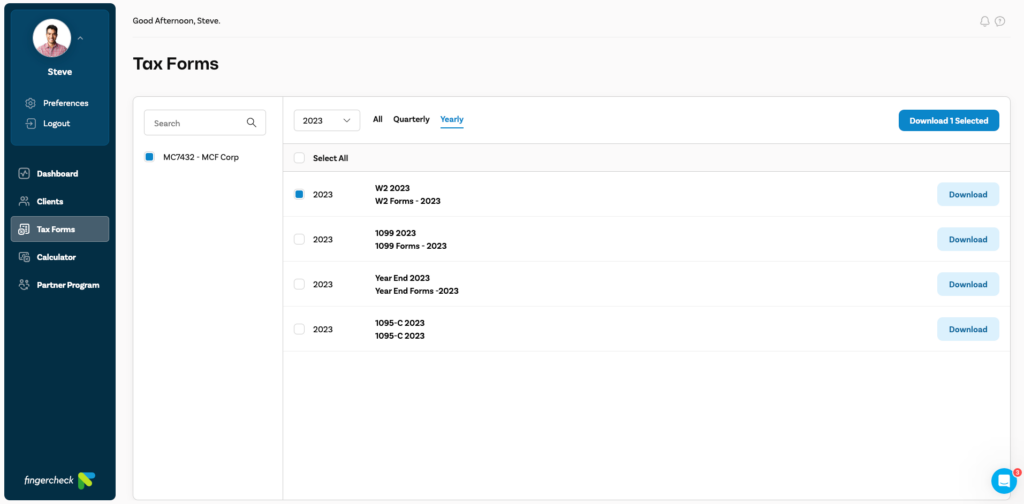 The Tax Forms tab is where you can download quarterly reports, W2 forms, 1099 forms, and other tax-related forms for all of your Fingercheck clients.
---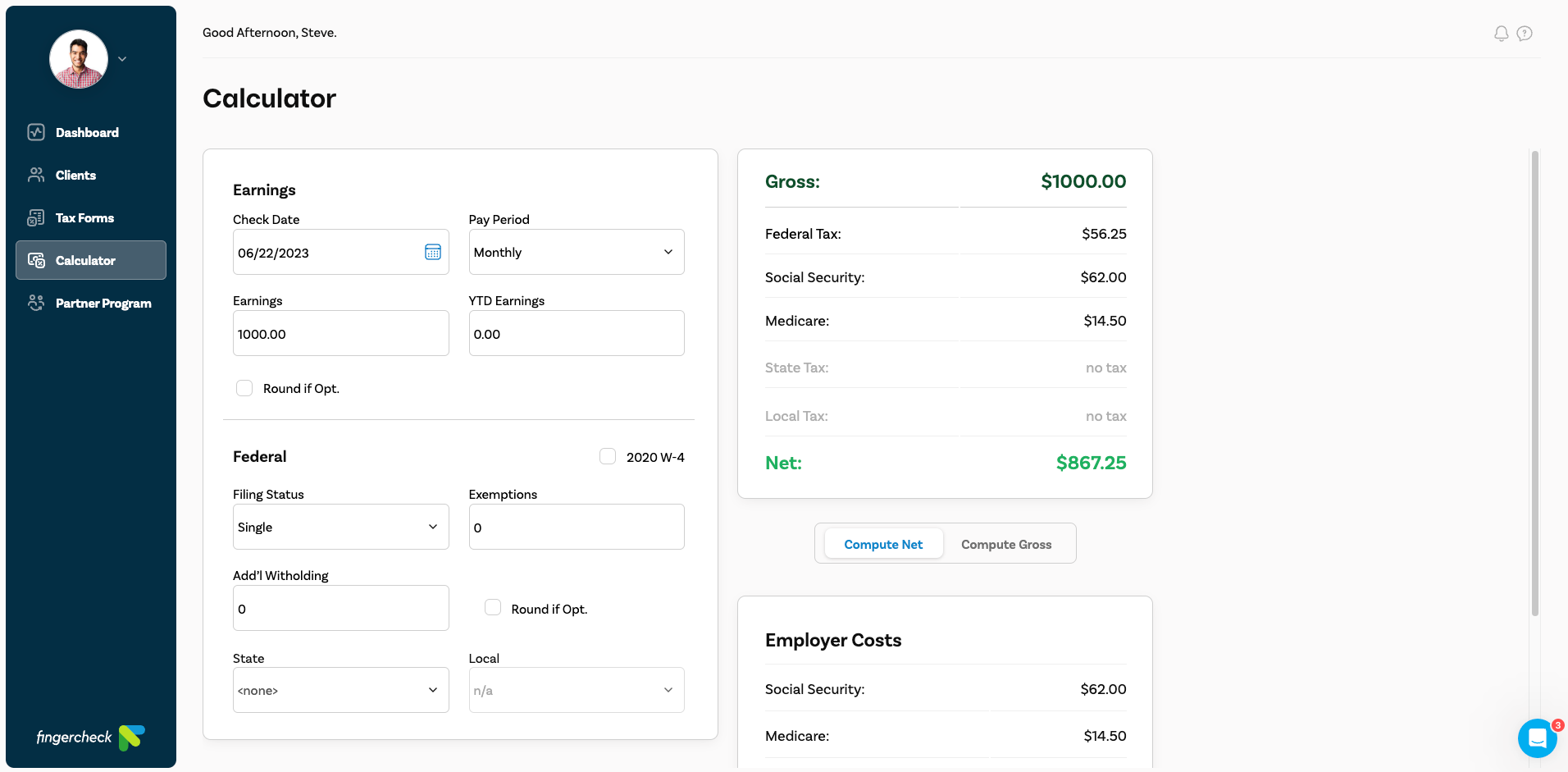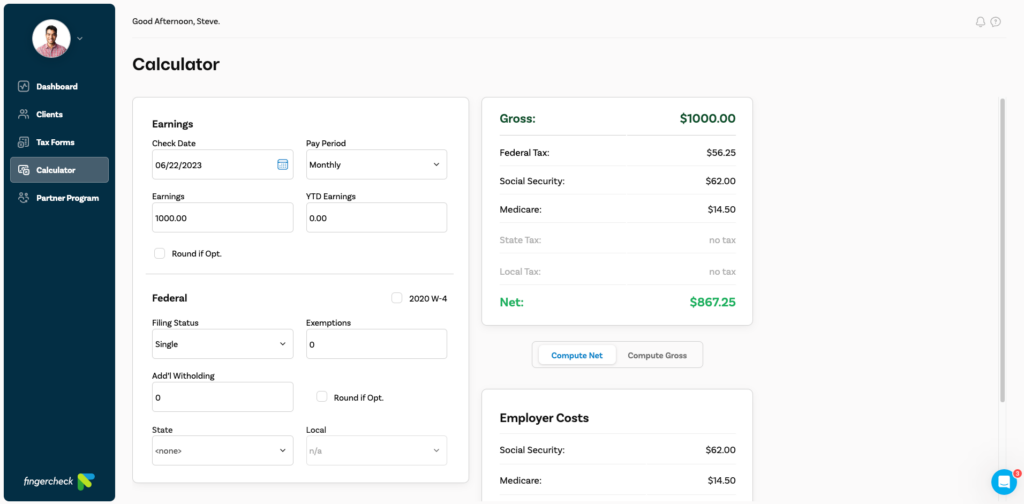 The Calculator tool helps you determine how much tax and other deductions will be taken out of a paycheck.
---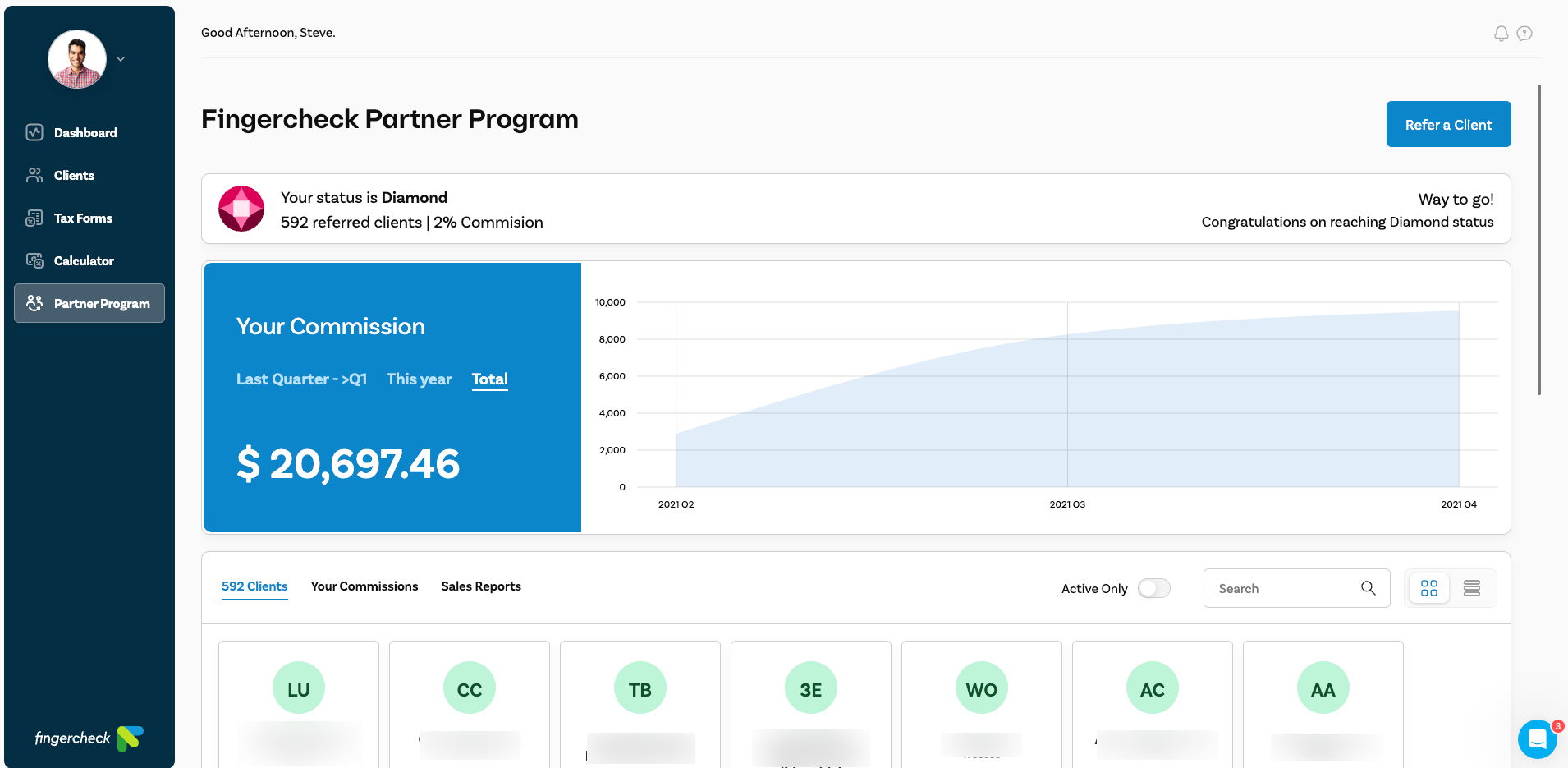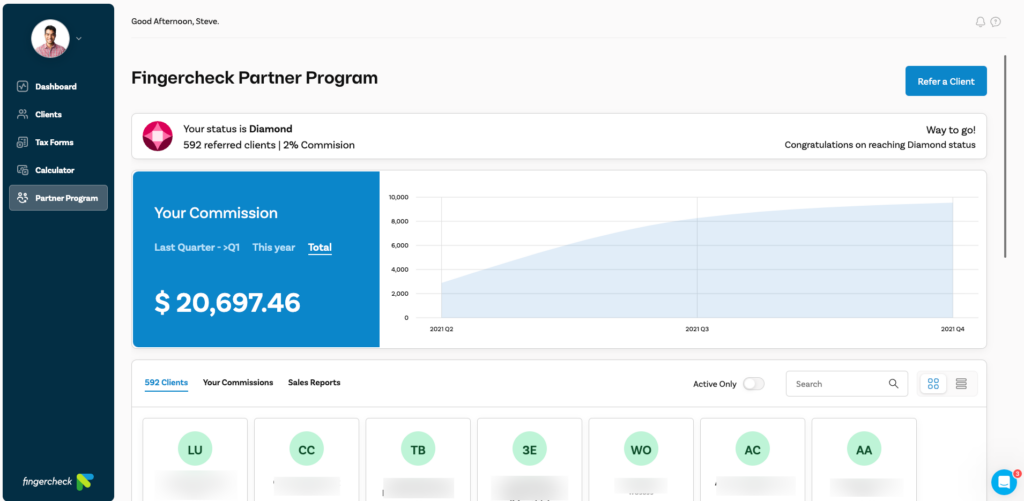 The Partner Program tab allows you to request access to become part of Fingercheck's Partner Program. Our Partner Program also provides you with an opportunity for an additional revenue stream through our referral program. When your clients join Fingercheck, they gain access to our automated payroll and HR solutions that save them time and money. And you get one-portal access to their data.
---
How does Fingercheck's Partner Program work?
Become a valued member of our Partner Program and unlock a world of monthly dividends based on the number of clients you refer. At Fingercheck, we believe in rewarding your efforts, so we've designed a four-tier approach to our referral rewards program.
Here's how it works:
Blue Partner: Refer three or more clients
Silver Partner: Refer 12 or more clients
Gold Partner: Refer 25 or more clients
Diamond Partner: Refer 50 or more clients
As you move up through the tiers, your earning potential increases exponentially. The more clients you refer, the more you earn in monthly dividends. It's a win-win situation that rewards your commitment and dedication.
Join our Partner Program today and start reaping the benefits of your referrals. Experience the power of Fingercheck's Partner Program and turn your network into a source of ongoing revenue.