As a business owner, it's important to know where every penny of your money is going. To ensure you have the latest key performance indicators (KPIs) for your company, it's essential to break down expenses by the job, department, location, and other factors. Luckily, Fingercheck is here to help with this!
Our Cost Center Levels feature (located under Setup in our dashboard) allocates employee hours across a wide option of parameters. The employee, of course, receives the whole check—but in your internal records, the wage costs and related taxes are allocated to multiple entities by percentages.
But what if, however, your employee doesn't have the opportunity to clock in and out of each site worked at? Or you don't have time clocks at every worksite? We now have a new feature to handle those instances where clocking in and out may not be an option.
Auto Labor Allocation
This feature splits percentages of an employee's paycheck in your records based on predefined fields such as job, department, and task—allowing you to allocate these expenditures exactly the way you want to! For example, it can assign 30% of the employee's paycheck to towards one job site, and 70% to another.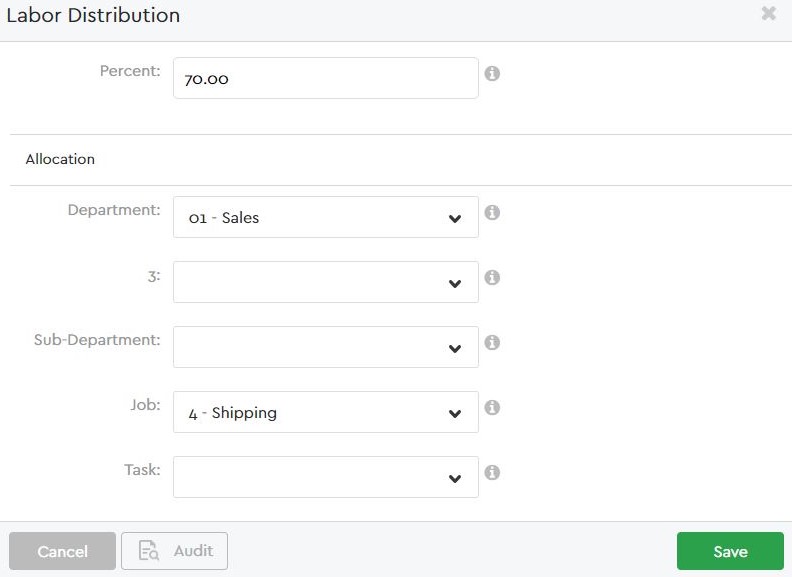 Here's how it works:
Log into your Fingercheck account.
Go to the Employees tab, and click the employee you want to define job allocation for.
Scroll down on the left-hand column and click the Payroll tab.
Find and click the Labor Allocation tab.
Click the "Add" button.
Create your first allocation by typing in the percentage you want to be allocated.
Then use the drop-down menus on the form to add identifying information related to that specific allocation.
Note: The fields "Job," "Department," and "Task" would display based on how your account has been configured under the Setup tab.
When you're done, hit "Save."
To add the next allocation, start the same process again. Be sure that all your allocations add up to 100%!
And there you have it! Just another way Fingercheck is always adding to their software to give you the easiest and most intuitive online time management and payroll experience.