This is the second part in a multi-part series about Human Resources in the construction industry. Subscribe now to be the first to know when the third installment arrives
In 2019, the U.S. Bureau of Labor Statistics reported that 11.3 million people–3% of the U.S. population– worked in the construction industry. That's a lot of employees for construction HR teams to manage. In that same year, the Associated General Contractors of America found that 80% of construction companies were struggling to find enough skilled workers. And that was before the COVID-19 pandemic, which brought the building and home improvement boom that came when employees shifted to at-home work. By October 2021, there were more than 400,000 open U.S. construction positions, according to McKinsey & Company researchers, who forecast 3.2 million new jobs across the nonresidential-construction industry over the next decade.
Now more than ever, it is critical that human resources teams in the construction industry know how to find the right people for their positions, hire those candidates, and quickly onboard them to the team. It is also crucial that construction businesses use competitive benefits packages to attract and retain the talent they need.
HR and hiring in the construction industry
We know that hiring in the construction industry is tight. One way hiring managers and construction HR teams can make sure they're attracting the best talent is by evaluating their needs before blindly searching for candidates. 
But you still have a bit of work to do, of course, starting with identifying your hiring needs. Then you can create a job post specific to those needs. The best practices include writing a search-friendly and engaging description to share via the Hiring by Fingercheck app on relevant job boards. You want the post to be attractive to candidates. A few points to consider in crafting the post:
Write it with the ideal candidates and their skill sets in mind, being mindful of your company's culture. 
Include specific duties related to the job. 
Mention if your small business offers training or opportunities for advancement, and if you offer medical, vision or dental insurance options and retirement benefits.
If you offer payroll options, like weekly pay, earned wage access or payroll debit cards, include that information in the post.
The construction industry contains specialized areas, flooring, for example, so if the job you are advertising is for a flooring position, be sure to include that early in the description. When listing desired skills, consider including any industry-standard licensures or certifications you prefer candidates to have.
Need a way to track hiring tasks?
Download our handy hiring checklist now.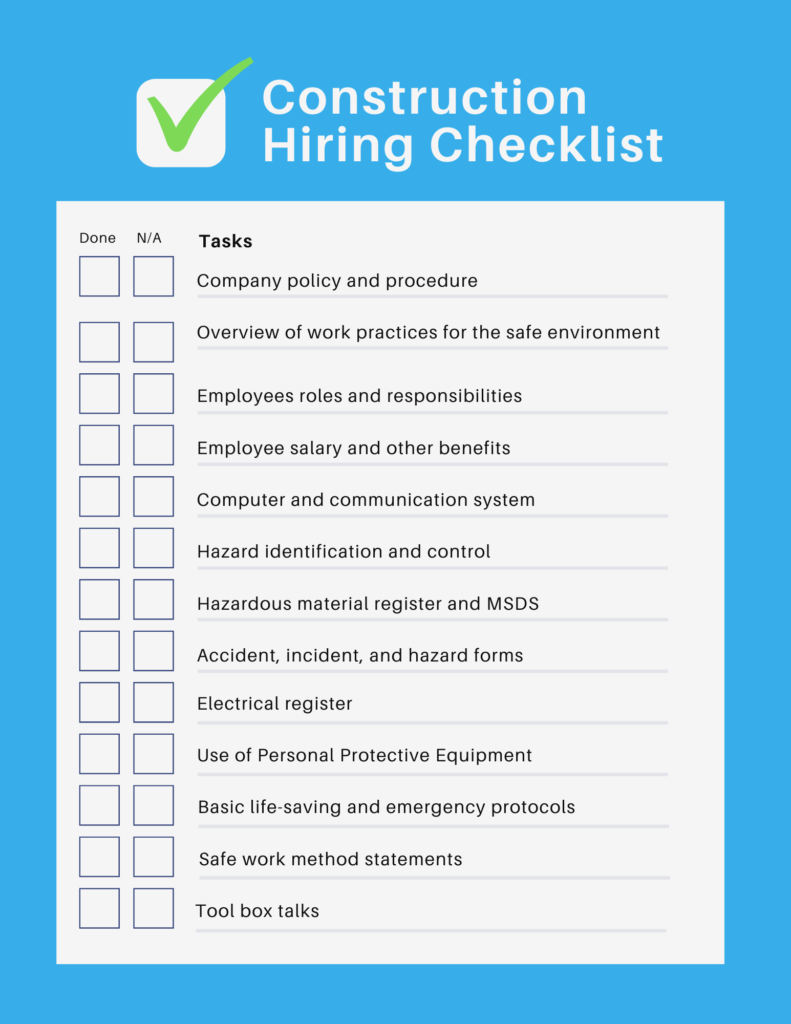 We've provided a checklist for you, but you shouldn't need it if you have Workflows by Fingercheck, which automates the process for you. Workflows makes collecting paperwork a thing of the past, allowing your team members to upload their licenses and other hiring documents directly to the app.
Chuck your checklist and get Fingercheck's modern solution 
Did you know that Hiring by Fingercheck helps make the hiring process more efficient? Our hiring app was created to help small businesses with all hiring-related tasks. We've designed our award-winning hiring app to make life easier for you so that you can focus on growing your small business. We streamlined the job posting and recruiting process, making it easier for you to find the perfect candidates. Hiring by Fingercheck allows you to:
Create detailed job posts and share with the appropriate job boards.
Rate applicants, assign different hiring leads and allow team members to comment.
Interview candidates quickly at any time and from any device.
Hire employees online and allow for an easy online onboarding process.
Human resources and onboarding new team members
Bringing qualified candidates to your team doesn't end with hiring. You also want to make sure that your onboarding processes are seamless. Our award-winning Onboarding by Fingercheck app helps take candidates through the onboarding process quickly, so they can hit the ground running. Traditional onboarding, with paper, takes roughly 90 minutes per new hire. And that's time you don't get back in your day. That's why we have automated many of these processes, providing you with a seamless experience that allows you to: 
Auto-generate signed I-9s and W-4s.
Select the payment method.
Generate compliance documents.
Geographical tax engine.
Employee self-onboarding from anywhere, anytime.
Generate employee contracts and share documents with employees.
Remember, hiring doesn't end with onboarding. You want to keep your employees happy. Retention is crucial to your small business's success. Losing workers mid-project can leave you unable to meet deadlines. Your HR team can develop incentives to keep employees working and entice them to stay after the job is finished.
HR and construction benefits
One way hiring managers and construction HR teams can make sure they're attracting the best talent is by offering the most attractive benefits packages possible. Benefits are designed to protect the people that move your company forward, but managing employee benefits can tedious and time-consuming. 
With Benefits Administration by Fingercheck, administrators can easily complete the following with an intuitive and powerful platform:
Quickly add plan details with flexible rules to meet your team's benefit offering. 

For example; companies can offer several Medical plans with or without the HSA addition to the plan, or they offer different employer contributions for various Departments within the company, this feature will allow them to create different rules for each Department or the Executives, etc.  

Deductions are automatically synced seamlessly into the Payroll system.

Upon review and approval of the administrator, the deductions are automatically added to the employee's profile and calculated when processing the payrolls – No more manual entries! 
Review the Open Enrollment status in real-time; 

Send reminders to employees with unfinished enrollments. 
Track everyone's progress in one easy-to-use dashboard. 

Upload the Benefits Plan Summary documents where employees can review and download. 
A lot of companies are still using paper for the benefits enrollment process. That's a nightmare! Our intuitive online platform reimagines the employee's benefits enrollment experience. In the app, employees can:
Compare plans side by side, in an intuitive dashboard.  
View the total cost of all the plan elections and the summary impact on their paycheck.
Access the summary benefits documents in the enrollment process. 
With our benefits system, you have access to:
Medical
Dental
Vision
Life and disability insurance
Commuter benefits
FSAs
HSAs 
And because it's automated, plan administrators are able to easily manage their employee  benefits and streamline the enrollment process. This automation also:
Provides greater confidence with detailed employee benefits options to choose the right benefits
Provides visibility and tracks enrollment progress with a personalized dashboard 
Configures rules and calculations and saves time with automated deductions 
Keeps employees informed about their enrollment progress with reminders and alerts 
We've designed our products to make life easier for you and your small business. The sooner you hire and onboard your employees, the sooner your construction business will grow.
Find out how Fingercheck helps construction companies do business better
This is part two of a multi-part series. If you'd like to learn how Fingercheck can help you with your construction hiring, subscribe now.