Whether hiring for an entry-level or senior management role, background checks are a routine and important step in any hiring practice. However, for many employers, it's a time-consuming process that we've simplified with the launch of a new partnership/integration with Brooklyn-based records check agency, SappHire.
This integration now raises the bar on our previous background check feature, while significantly lowering the amount of time and cost it takes to run them. SappHire is a market leader in obtaining reliable and factual information (on prospective employees) through legal investigations.
This new integration allows employers to run background checks right from the Fingercheck dashboard with just the click of a button. Current Fingercheck users can automatically take advantage of this new feature and conduct:
Social Security # Verification
Access Driving Record Reports
Multi-State Criminal Checks
Past Address Searches, and more
With this integration comes three separate levels of background checks to choose from – covering the specific needs and requirements of any business. Current users can simply, visit their dashboard, click the "hiring" tab, select "applicants" and proceed from there with no extra steps to take. This, combined with our other innovative hiring tools (such as employee onboarding and applicant tracking) makes the search for your next hire effortless!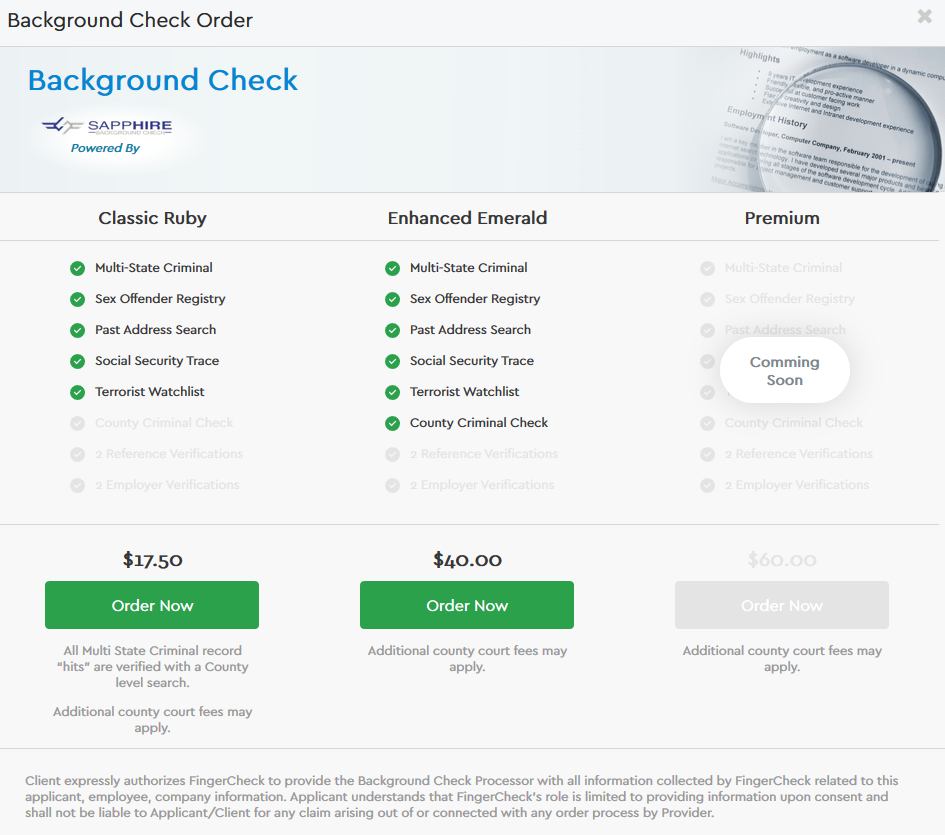 We all can agree that hiring the wrong candidate is costly and isn't fun for all involved. So it's important to have crucial, accurate information on any potential new hire to help your company make sound and rational judgments when hiring – Fingercheck is here to help you do that. To learn more about this new feature, become a user or learn anything about Fingercheck visit us online or call us at 800.610.9501.