The GEO Live map feature of FingerCheck's online time clock software has been an immensely useful tool for businesses using our mobile app.
The ability to open one map and view the punch statuses and locations of all employees who've clocked using the mobile app has been a great convenience for managers overseeing busy staffs.
Businesses whose priority it is to stay on top of their employees' work time whereabouts are able to track their employees using our GPS tracking and view the locations of their punches within the FingerCheck application.
Now, a brand new addition to our GEO Live Map feature is the ability to see employees' mobile punch photos while hovering over their pins.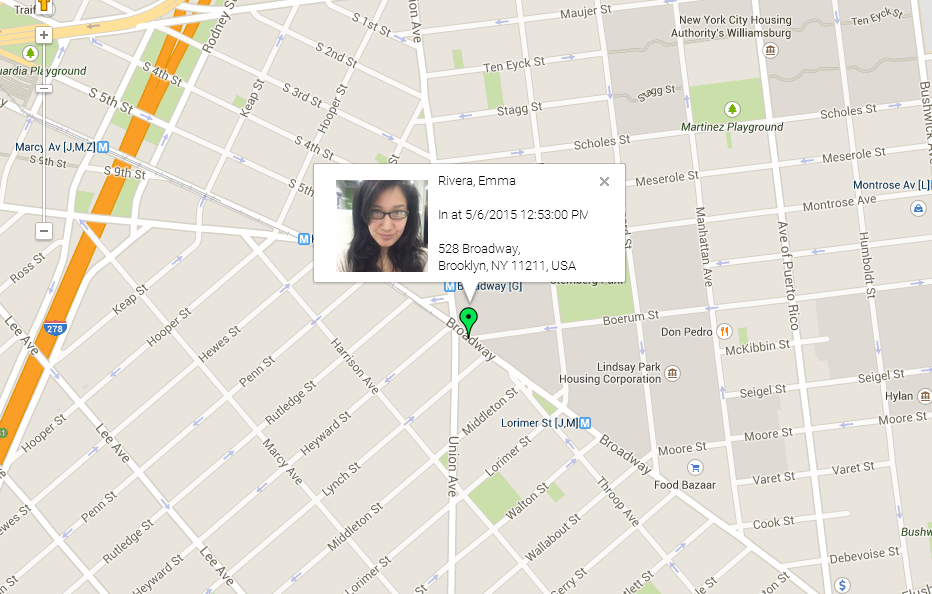 This extra add-on feature to our online time clock software allows you to have even more authority over employees who work on the go or are out of the office. Now whenever your employees punch in using the mobile app, you will be able to view the punch photos your employees capture in real-time using our GEO Live map functionality so you can be sure they're on the job.
Combining these two into one easy to view map offers you the greatest deal of information possible. Using our online time clock software, hover over any pin and you will be able to view that employee's name, location, punch status and time, the address of their current location, and now, their punch photo.
Whether it be a self-portrait or a snapshot of their job site, punch photos offer one more detail about your employees' work activities. To take advantage of the feature, you will need to enable mobile photo punch and navigate to our GEO Live Map.
Once your employees begin clocking from the mobile app, you will be able to view the fullest information possible about their punch site and status (including their punch photo!).
We hope you enjoy this added feature to the FingerCheck online time clock software.